Jurassic World: Dominion Dominates Fandom Wikis - The Loop
Play Sound
Madame Bianca Castafiore, nicknamed the Milanese Nightingale, is the leading opera singer of her time and an ally to Tintin. She was first introduced to the series in the chapter King Ottokar's Sceptre. Her forename Bianca means "white" (feminine) in Italian, and her surname is Italian for "chaste flower."
Castafiore is a soprano, which means she is able to sing extremely high pitched notes. While this is considered a miracle talent in the opera world, it sounds more like a shrill racket to Tintin and Captain Haddock. She is also an avid collector of precious stones, and her trademark opera song, "Jewel Song", reflects this.
Origin
While Hergé was a big fan of classical art, he did not like opera, and strongly detested it: "Opera bores me, to my great shame. What's more, it makes me laugh."[1] This stemmed from how his aunt liked to practice singing opera, and as a child, Hergé would be made to sit with his family and listen to her practices.
When creating Bianca Castafiore, he drew most of his inspiration from the Greek opera singer Maria Callas and Finnish opera singer Aino Ackté. Like Castafiore, Callas and Ackté were prima donna sopranos and often mentioned in tabloids of the era.
Background
Bianca Castafiore was born and raised in Milan, Italy. She is a regular fixture at the Milanese opera house La Scala.[2] Her pet aria, "L'air des Bijoux" or "Jewel Song", was composed by Charles Gounod and comes from the opera Faust. Castafiore is always accompanied by a small entourage everywhere she goes; this includes her two assistants, pianist Igor Wagner and maid Irma.
In her first appearance, Castafiore is in a car headed to Klow, Syldavia with Wagner.[3] Tintin hitches a ride in the car while trying to avoid the Syldavian police. However, when Castafiore begins singing opera, Tintin dives back out of the car, and narrowly avoids being assassinated by the police.
Castafiore has powerful musical talent, both artistically and physically. Her loud, high-pitched singing is often played for laughs; at one point, the high notes actually put a part in the Captain's hair, and create a breeze strong enough to blow back a curtain in an opera box. When Tintin, Haddock, and Snowy see Castafiore perform at a variety show, her high notes cause Snowy to begin howling along with her singing.[4] In the 2011 film, Castafiore is able to sing at a note high enough to shatter glass, which Ivan Sakharine uses to his advantage in stealing the Unicorn model.
Personality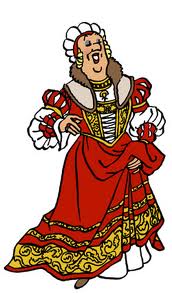 Bianca Castafiore is a preening, melodramatic diva by nature. She is prone to being self-absorbed, and loves to play up the media circus that follows her to every event. While she may seem vain at first glance, Castafiore is fiercely loyal to her loved ones. In The Castafiore Emerald, she is horrified to discover the Thompsons have made Castafiore's maid Irma cry, and she curses the detectives out.[5] Her highly emotional nature makes her especially annoying to Captain Haddock. However, she is unaware of Haddock's distaste, and often flirts with and dotes on him.
Castafiore tends to forget the names of people she does not talk to very often. She knows Tintin well by name, but never seems to remember Captain Haddock's. She often mistakenly refers to Haddock with a similar-sounding word, variously as Hammock, Paddock, Padlock, Hemlock, Hassock, Havoc, Maggot, and Bootblack, among others. She is loyal to Haddock and Tintin, too, most notably in The Calculus Affair. She helps the two hide in her dressing room closet from Colonel Sponsz. She continues to lie to protect them, and even gets Sponsz to tell her about his further plans, tricking him into literally telling Tintin and Haddock his whole plan. Castafiore is much more clever than she looks, and she uses this to her advantage.
Castafiore is also highly fussy and hates being forced into anything. In Tintin and the Picaros, Castafiore was falsely imprisoned by the South American dictator General Tapioca, in order to lure Tintin, Haddock, and Calculus into an assassination trap in San Theodoros. Castafiore is very well aware that she is being used for political gain, and she decides to give her captors a hard time. Tapioca's supreme court holds a show trial for Bianca, and she expresses her contempt by bursting into an ear-splitting rendition of "Jewel Song". This forces the officials to clear out the court for the day. While staying in their state prison, Bianca throws pasta on one of the prison guards for not cooking it al dente.
Relationships
"Come into my arms!"

"NO!"

–Bianca Castafiore to Captain Haddock.
Castafiore is a very touchy person and able to charm others, which has led to many misunderstandings among the tabloid press. She has been accused of having many highly-publicized alleged relationships over the years - most prominently with Captain Haddock - but she always chooses to ignore the rumours. She is shown to be very popular with men, and commands a strong presence around them. Villains like Colonel Sponsz, Colonel Alvarez, and the Marquis di Gorgonzola (secretly Roberto Rastapopoulos)[6] have doted on her or invited her to social gatherings. She rarely shows romantic interest in others, but seems to have genuine feelings for Captain Haddock.
Captain Haddock
Bianca Castafiore first met Captain Haddock while he and Tintin were searching for Professor Calculus in The Calculus Affair. She took an instant liking to the sea captain, despite his slight shock and disgust at the idea. Throughout the series, Castafiore continues to run into Tintin and his friends all over the world, and she continues to flirt with Haddock. Eventually, in The Castafiore Emerald, she and Haddock were accidentally thought to be engaged and it received wide coverage in tabloids and magazines. Haddock was tremendously angry about this, and Castafiore tried to reassure him by naming off the variety of men she has been accused of being engaged to (including the Marquis di Gorgonzola).
Despite Bianca's obvious attraction to him, Captain Haddock finds her annoying and intimidating. He strongly dislikes her singing and is often exhausted by her melodramatic personality. He even begins hiding from her whenever the group happens to see her in public. However, when Castafiore is not around, Haddock always speaks highly of her. In the 2011 film, Captain Haddock is immediately smitten with Castafiore when he first sees her. She is displayed on a promotional banner in Bagghar, and upon seeing her, Haddock exclaims, "What a dish!"
Professor Calculus
Castafiore has also shown interest in Professor Cuthbert Calculus, though to a lesser degree than with Captain Haddock. They are introduced in The Castafiore Emerald when she comes to visit Marlinspike Hall. Castafiore is thrilled to meet Calculus but misremembers him as a famed balloonist. Calculus, meanwhile, is quick to take Castafiore's hand and kiss it, though he too misunderstands what she is famous for: "Tintin has often spoken of your pictures...the delicacy of the drawing in perfect harmony with the boldness of the colour. And your portraits, I know, always display an amazing likeness."[7] Castafiore is confused, but still appreciates Calculus's adoration.
Over the course of the chapter, Calculus spends much of his time developing a variety of white roses inspired by and named after Bianca. He presents a bouquet of these roses to Castafiore before she departs from Marlinspike Hall. She seems genuinely honoured to receive these, and she kisses Calculus on the cheek.
Appearances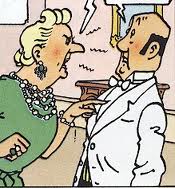 See also
1683 Castafiore, an asteroid discovered in 1950 and named after Castafiore
Nightingale, the bird that is part of Castafiore's nickname
References