Captain George Chester (French: Capitaine Georgé Chester) is a gruff merchant skipper and an old friend of Captain Haddock.
History
He first appears in The Shooting Star in Iceland, where he accidentally bumps into Captain Haddock at the docks and launches into a bizarre greeting ritual with Haddock which Tintin at first interprets to be the build-up to a fight. However, Haddock and Chester warmly clasp hands and take Tintin to a local bar to reminisce over a bottle of whisky. Chester is captain of the Sirius, a merchant trawler, and uses it to secretly refuel Haddock's research vessel Aurora in Iceland when their competitors block the fuel supply. Fuel flows into the Sirius, and then into the Aurora.
He is briefly mentioned in The Secret of the Unicorn. Chester later lends the Sirius to Haddock when he and Tintin set off to find Red Rackham's Treasure. Chester is briefly mentioned in The Seven Crystal Balls when Tintin and Haddock attempt to visit him while he is docked at a port, but he departs before they arrive. He is also one of the people who sends Haddock a congratulatory telegram in The Castafiore Emerald.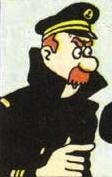 Community content is available under
CC-BY-SA
unless otherwise noted.