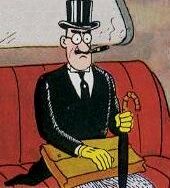 General American Oil is an American oil company. It is represented by R.W. Trickler and is prominent in The Broken Ear.
History
In The Broken Ear, R.W. Trickler, a representative of General American Oil, attempts to bribe Tintin so that the company could control of the oil deposits in El Chapo, which would spark a war between San Theodoros and Nuevo-Rico. Trickler offers Tintin $100,000 to persuade General Alcazar to accept his offer, but Tintin refuses to do so. Trickler then plans to kill Tintin with the help of his right-hand man, Rodriguez, and Pablo. After Tintin escapes murder, Trickler tricks Alcazar into believing that Tintin is a spy. However, General American Oil manages to manipulate Nuevo-Rican General Mogador into declaring war on San Theodoros.
Community content is available under
CC-BY-SA
unless otherwise noted.