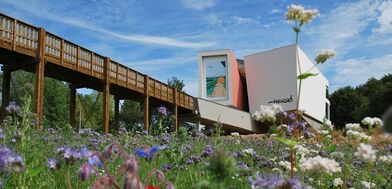 The Hergé Museum is located in the centre of the Belgian city of Louvain-la-Neuve, on the edge of a green park, Le Parc de la Source. This location was originally chosen for the Museum in 2001. The futuristic building was designed by Pritzker Prize-winning French architect Christian de Portzamparc. On 22 May 2007 (the centenary of the birthday of Hergé) the first stone was laid for the Hergé Museum. Two years later the Museum opened its doors to the public.
The idea of a museum dedicated to the work of Hergé can be traced back to the end of the 1970s, when Hergé himself was still alive. After his death in 1983, Hergé's widow, Fanny Vlamynck, led the efforts, undertaken at first by the Hergé Foundation and then by the new Studio Hergé, to catalogue and choose the artwork and elements that would eventually become part of the Museum's exhibitions.
The Hergé Museum contains eight permanent galleries displaying original artwork by Hergé, and telling the story of his life and career. Although his most famous creation, Tintin, features prominently, his other comic strip characters are also present. The exhibitions also include examples of Hergé's diverse and prolific output working as a graphic designer in the 1930s. The Museum houses a temporary exhibition gallery, which is updated every few months to host new exhibitions (with diverse titles such as Tintin, Hergé and Trains and Into Tibet with Tintin).
The team managing the Museum organises regular events (such as the Tintin Flea Market and annual late-night opening events), often working in collaboration with the local authorities to create fun and informative occasions enjoyed by visitors to and residents of Louvain-la-Neuve.
Other Hergé creations are present in the Museum such as Jo, Zette and Jocko and Quick and Flupke.
External Links