Le Soir (meaning The Evening) is a Berliner format Belgian newspaper. Le Soir was founded in 1887 by Emile Rossel. It is the most popular French language newspaper in Belgium, and is also considered a newspaper of record. The Adventures of Tintin were published in this paper during the German occupation of Belgium during World War II. During and after the German occupation Hergé was accused of being a collaborator because of the Nazi control of the paper (Le Soir), and he was briefly taken for interrogation after the war.[1]
Hergé was asked by Le Soir to draw a weekly supplement, similar to that he did in Le Petit Vingtième, called Le Soir Jeunesse. He agreed and he began to work on a new story about the much less controversial issue of drug smuggling. After the finish of The Seven Crystal Balls in 1944 The Adventures of Tintin were published in the newly-created Tintin Magazine from 1946 onwards.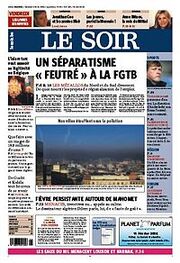 Tintin publications
References
↑ Goddin, Philippe (2008). Hergé. Levenslijnen. Biografie. Moulinsart. p. 330. ISBN 9782874241710.
External links
Community content is available under
CC-BY-SA
unless otherwise noted.