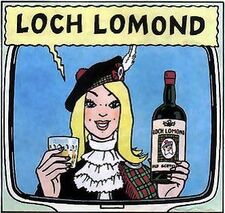 Loch Lomond is a Scottish manufactured brand of whiskey that both Captain Haddock and Snowy enjoy. It is mentioned in various adventures in the hands (or paws) of these two. It is named after a real Scottish lake; Loch Lomond.
Loch Lomond is also, by chance, the name of a real-life brand of Scotch whiskey. However, the brand originated after the first appearance of Loch Lomond in The Adventures of Tintin.
Appearances
The Black Island: as Tintin  and Snowy  visit Scotland, the home of whisky, there are several scenes with barrels or tanks or signs depicting the Loch Lomond logo, including a rail tanker. In the original black & white edition the tanker was for Johnnie Walker brand whiskey.1
The Crab with the Golden Claws: When Haddock  is first introduced he is a chronic drinker and drinks whiskey by the gallon. His drunkenness even causes him to light a life boat on fire. Much of his alcohol related behaviour was later downplayed and likewise references to alcohol in editions published in the United States.

The Secret of the Unicorn: Haddock  is also under the influence of whiskey when he flamboyantly tells/acts out the tale of his ancestor Sir Francis Haddock. Snowy  also consumes a portion leading him to see double.
Tintin and the Picaros: Loch Lomond whiskey is being air-dropped on to the jungle where the Arumbayas and Los Picaros live; this is a plot by General Tapioca and Colonel Sponsz to make General Alcazar's allies weak.
At the same time Loch Lomond is seen as one of the beverages being consumed at the February mardi-gras/carnival in Los Dopicos. It is even seen to be a sponsor of the event on a Viva Tapioca banner in the street.
Tintin and Alph-Art: A bottle of Loch Lomond whiskey is seen in a nightmare of Haddock
Source
External Links