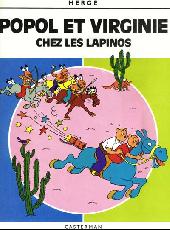 Popol out West (French: Popol et Virginie chez les lapinos) is a comic book targeted at younger children written by Hergé. It was released in the 1930s, when his publishers asked Hergé to write a comic for very young children, for whom Tintin was too mature. It appeared between February 8 and August 16 1934 in Le Petit Vingtième, the newspaper that also published The Adventures of Tintin.
Hergé did not like the story, and had already used similar ones before in two other stories for younger children, The Adventures of Tim the Squirrel out West and The Adventures of Tom and Millie. The story's setting also has similarities to Tintin in America.
Plot
The story is about a squirrel hatter called Popol who has moved, with his wife Virginia, and talking blue donkey, to the wild west to sell hats. However there lies the warring native American rabbits (the Bunnokees) and bully outlaw dog.
Re-Publication
Initially, no album was made of the story, contrary to what happened with The Adventures of Tintin and Quick and Flupke at the time. However, in 1948, the story was republished in Tintin magazine, and in 1952 -05-0011Casterman published the first edition of the album. Differing editions would follow, with a different jacket since 1968.
Community content is available under
CC-BY-SA
unless otherwise noted.