"I've already forgotten about it. Perhaps I should explain myself, admiral. I've got no memory. Terrible thing, that."
—Scoubidouvitch
Scoubidouvitch is a Greek clarinet player who appears in the film Tintin and the Mystery of the Golden Fleece. He was first seen playing at a wedding, and was recognised by Tintin from the photo of the "new Tetaraguan government".
He was kidnapped by Angorapoulos and some other Karexport thugs in order to make sure he didn't tell anyone what he knew about Paparanic's gold. After the car he was in was driven off the road by a truck, Tintin and Haddock retrieved him from the flaming vehicle. He told them that he couldn't help them owing to his "memory loss" -- his kidnappers had threatened to kill him if he told anyone too much about what he knew -- but, in exchange for some money, did direct them to Alexandre Timochenko, who could tell them the whole story of what happened in Tetaragua.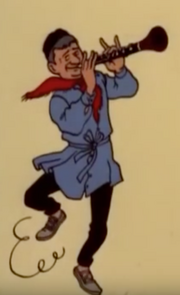 Community content is available under
CC-BY-SA
unless otherwise noted.