Sir Francis Haddock (French: Chevalier François de Hadoque) is a look-alike ancestor of Captain Archibald Haddock. He was knighted and commanded a Ship-of-the-Line in the Royal Navy under King Charles II (Louis XIV in the French version).
History
Sir Francis was the captain of three-masted armed naval vessel The Unicorn, which he was forced to blow up when it was commandeered by the infamous pirate captain Red Rackham. Sir Francis escaped the ship and lived among the natives of a tropical island close to where the Unicorn sank for two years before being rescued and returned home. Haddock was honoured by the king, and rewarded with the ownership of Marlinspike Hall in 1685 just before King Charles II's death on the 8th of February.  However, it is portrayed in the French version that Haddock was praised and rewarded by King Louis XIV in 1695 (This is probably due to Louis XIV's reign outlasting Charles II's). Long after returning home, Sir Francis concealed the treasure stolen from Rackham in the cellars of Marlinspike Hall.
Portrayals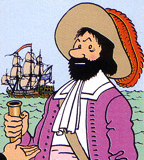 Sir Francis Haddock was voiced by David Fox, who also portrays Captain Haddock, in The Adventures of Tintin (TV series). This set up an informal precedent and was portrayed by Andy Serkis in The Adventures of Tintin: The Secret of the Unicorn who likewise voices Archibald as well.
Trivia
Sir Francis Haddock is possibly based on the historical figure Sir Richard Haddock who served Charles II as a member of the English (and later the British) Royal Navy. Richard Haddock also recieved a knighthood from Charles II after his service during the Anglo-Dutch Wars. Of further interest; his grandfather of the same name captained a ship called The Unicorn in service to Oliver Cromwell's Commonwealth Navy.
Community content is available under
CC-BY-SA
unless otherwise noted.