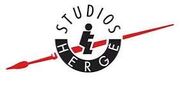 Studio Hergé
was, between
1950
and
1986
, a grouping of comic author
Hergé
and his assistants, who helped him with the creation of
The Adventures of Tintin
,
Quick & Flupke
and their derived products. During its existence, the studio had between 12 and 50 employees, including some prestigious artists like Jacques Martin, Bob de Moor and Roger Leloup.
All creations produced by the studio were attributed to Hergé only, with the exception of three albums of Quick & Flupke created after his death which are credited to the Studio as a whole on the cover. After 1986 , the Studio was disbanded and absorbed into the Hergé Foundation.
Members of the Studios
This non exhaustive list features the principal members only.
Hergé
Steven Spielberg
Peter Jackson
Artists
Bob de Moor (1950–1983)
Jacques Martin (1947-1972)
Roger Leloup (1953–1969)
Michel Demarets (1953–1986)
Jo-El Azara (1954–1961)
Guy Dessicy (1950–1953)
Johan De Moor
Colorists
Josette Baujot
Monique Laurent
France Ferrari
Nicole Thenen
Secretaries
Marcel Dehaye
Baudouin van den Branden
Works of the Studios
Every work released under the name of Hergé since 1950 can be considered to be works of the Studio. Studio Hergé played a major role, either by colouring, drawing of backgrounds, or by completely replacing Hergé. However, it is difficult to correctly judge the role of the contributors, as Hergé and, later, his rights-holders.
There is a debate over several albums, mainly Tintin and the Picaros and the third version of The Black Island, where some believe that Bob De Moor completely drew the entire book. With the Jo, Zette and Jocko adventure The Valley of the Cobras, Jacques Martin is sometimes said to have drawn the whole of the album.
Albums
The Adventures of Tintin
Reformatting and colouring of old albums
Additional publications
Six pop-up books Pop-Hop published by Hallmark between 1969 and 1971.
Tintin and the Lake of Sharks (1972), adaptation of the animated movie.

Two versions were created, one with images from the movie, the other one as a redrawn comic strip. The first was published as a book by Casterman, the second was published in a number of Belgian and French newspapers.

Two books Jouons avec Tintin (1974).
Quick & Flupke
Adaptation of old gags by Hergé
Jeux interdits (1985)
Tout va bien (1985)
New gags created after the death of Hergé
Jo, Zette and Jocko
The Valley of the Cobras (1956)
Animated movies
Community content is available under
CC-BY-SA
unless otherwise noted.