Tharkey is a Sherpa guide who helps Tintin to locate the ill-fated Patna-Kathmandu flight carrying Chang Chong-Chen in Tintin in Tibet.
History
Though reluctant to risk the dangerous attempt to find Chang, who he believes is already dead, Tharkey leads Tintin, Snowy and Captain Haddock to the wreckage site of the plane. After initially leaving the site to return to his home, Tharkey feels guilty for abandoning them and returns just in time to save Tintin  and Haddock who were in a perilous situation. However, he subsequently breaks his arm and must return to the plains after partly recuperating at the Buddhist monastery of Khor-Biyong while Tintin  and the Captain continue their search for Chang. Tharkey have been based on the Nepalese sherpa Ang Tharkey, sirdar of the french expedition "Annapurna 1er 8000"  which reached the summit of Annapurna on the 3rd of june 1950  with Maurice Herzog.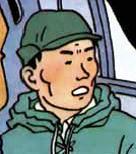 Community content is available under
CC-BY-SA
unless otherwise noted.