Jurassic World: Dominion Dominates Fandom Wikis - The Loop
Play Sound
The Black Island is the seventh book of The Adventures of Tintin and the sequel to The Broken Ear. It is a story of a money counterfeiting ring in Scotland, written by Hergé and first published in 1938.
Original title: L'ile noire
Synopsis
During a walk in the countryside Tintin observes a plane making an emergency landing. He approaches with the intention of assisting and notices that it does not have a registration number. As he nears the plane he is shot by the pilot and collapses. Tintin recovers in the hospital where detectives Thomson and Thompson tell him that another unregistered plane has crashed in a field in Sussex, England. Tintin decides to investigate these events further. Taking a train from Brussels to the coast, Tintin boards a ferry from Ostend to Dover. During this trip he is framed for the assault and robbery of a fellow passenger (who is actually part of a clandestine criminal gang that Tintin has inadvertently come across). Thompson and Thomson arrest Tintin, but he escapes by handcuffing them to each other while they were asleep.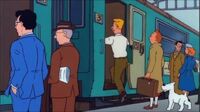 After arriving in England, Tintin is kidnapped by the same men who framed him on the train. They take him to a clifftop, with the intention of making him jump off it, but Tintin manages to escape with Snowy's assistance. His investigations lead him to Dr. J.W. Müller who, with his chauffeur Ivan, is part of a gang of money counterfeiters, led by Puschov, the so-called victim on the train.
As a result of his pursuit of Müller and Ivan, Tintin's plane crashes in rural Scotland, where a friendly farmer gives him a kilt and Tam O' Shanter to wear. He visits the pub in the coastal village of Kiltoch, where he is told strange stories about the Black Island, where an evil beast is said to roam, killing humans. Tintin buys a boat from a villager and heads for the island, where he is almost killed by a gorilla named Ranko and finds his boat missing.
Stranded on the island, Tintin discovers that it is the hideout of the gang of counterfeiters led by Puschov and Müller. Tintin manages to temporarily subdue the gang, who free themselves shortly afterwards, and calls the police on their radio signaling device after watching Thomson and Thompson win an air show race on a television set. After a desperate holding-out action (in which Ranko's arm is broken), the gang is captured and Tintin returns to mainland Kiltoch, but the media and press do not stay very long after Ranko appears. The gang is jailed, the now submissive Ranko is placed in a zoo in Glasgow, and Tintin decides to return home to Belgium via air.
Publication History
When the book was going to be released in Great Brittan for the first time in 1966, the publishers of the time, being British, felt that Hergé's illustrations of England's landscape from the 1943 edition were not so accurate in representation as the native readers would expect to see it when the book would be translated and published. As a result, the publishers asked for major changes to be made and so an associate illustrator of Hergé visited England to collect as much information as possible to have the country be drawn more accurately. As such, The Black Island was completely redrawn and would additionally generally become the current version of the book that most are familiar with.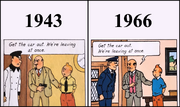 Besides alternations in depicting British Isles more accurately, various modernizations and other changes were made in the 1966 edition. Such as characters having completely different appearances in terms of physique and clothing, contemporary cars of the 1960's replacing older ones previously portrayed, steam locomotives portrayed being replaced with diesel or electric units, the removal of the Johnnie Walker whiskey brand appearance, and a general higher level of detail added to each panel of the book.
Continuity
Appearances
Characters
Locations
Organizations