Tintin in America (French: Tintin en Amérique) is a comic book by Hergé, which was released in 1932. It was the sequel to "Tintin in the Congo." In this story, Tintin and Snowy are in Chicago. After all the gangsters in Chicago begin to dislike Tintin, the two go to the Wild, Wild West of America. It is 62 pages long. The illustrations in the book are in colour. The book was very successful, and it was around about this time that Tintin became famous. It was not too long before the next book, "Cigars of the Pharaoh" was released.
Synopsis
After a long journey in the Congo, Tintin goes to Chicago, to bust Al Capone and his gangsters. He is captured by gangsters many times but escapes. He also encounters Al Capone himself and catches him but the police don't believe him, and thus Capone escapes. After arresting a certain criminal, Tintin is congratulated by the police and sends him to talk to their boss. But he finds out that he is meeting Capone's mob rival, Bobby Smiles and the police is the Gangsters Syndicate of Chicago (which is not revealed to Tintin).
On the lead to capture Bobby Smiles, Tintin goes to the Midwestern town of Redskin City (Red Dog City in the animated series), where Bobby is said to be hiding. After Smiles finds out that Tintin is on his tail in Redskin City, he fools the Blackfoot Indian Tribe about Tintin as a "paleface and a danger to their tribe". He is captured by them and after he escapes the tribe, stuck in a cave, he discovers oil. This unintentionally causes the expulsion of the tribe, as unscrupulous oil corporations take over their land, depriving them of any share in the oil profits (see Ideology of Tintin). Finally, Tintin captures Smiles, and ships him back to Chicago in a crate.
After Smiles is captured, Bugsy Kidnap kidnaps Tintin's dog, Snowy. Tintin manages to save him and arrests most of the bald gangster's henchmen, although the gangster himself manages to escape. The next day Bugsy Kidnap orders a subordinate named Maurice Oyle to invite Tintin to a cannery of the Grynde Company ("Slift & Co." in the original French, a play on Swift & Co.). There, Tintin is tricked into falling into the meat grinding machine. However, because the workers at the cannery are on strike, the meat grinder is deactivated and Tintin escapes. Tintin later tricks and captures both Maurice and Bugsy Kidnap and they are lest seen being dragged by Snowy to the police station.
After this escapade, Tintin is invited to a banquet held in his honour, where he is kidnapped by Chicago gangsters who have decided to wreak revenge upon him for his crackdown upon the city's criminals. The gangsters tie Tintin and Snowy to a weight and throw them into Lake Michigan. However, the gangsters mistakenly used a block of wood as a weight, and thus Tintin and Snowy are saved by what is ostensibly a police patrol boat.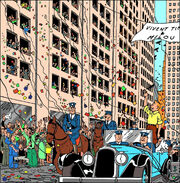 It soon transpires that the crew of the boat are not policemen, but more gangsters, and they attempt to kill Tintin. However Tintin overpowers them, and later leads the police to the gangsters' headquarters. A grateful Chicago holds a ticker-tape parade for Tintin, after which he returns to Europe.
Continuity
Appearances
Characters
Locations
Organizations
Grynde Corp.
Gangsters Syndicate of Chicago
Black Feet Tribe
Cactus & Petroleum Bank Inc.
The Moonshine Club
Community content is available under
CC-BY-SA
unless otherwise noted.